Women V Cancer cycle ride is an incredible 260 mile challenge through rural Rajasthan in India. Along the way participants experience breathtaking scenery, ancient temples and the warmth of the local people.
Women V Cancer is a special fundraising partnership between Breast Cancer Care, Ovarian Cancer Action and Jo's Cervical Cancer trust. The rides have raised over £7 million for the three charities over the years and all funds raised for Women V Cancer are split equally between the three charities.
Sue Hammond of Castle Frome, Herefordshire, who at Christmas 2016 was diagnosed with breast cancer, decided at her first chemo session to focus on another personal challenge. To 20 months later join a tribe of like-minded women to raise money and give back to the organisations fighting to nurture and support them and the other thousands of women discovering their own fearful diagnosis of cancer.
Sue came through the treatment and is currently in India fulfilling her other challenge. Riding 260 miles in sweltering heat to raise funds.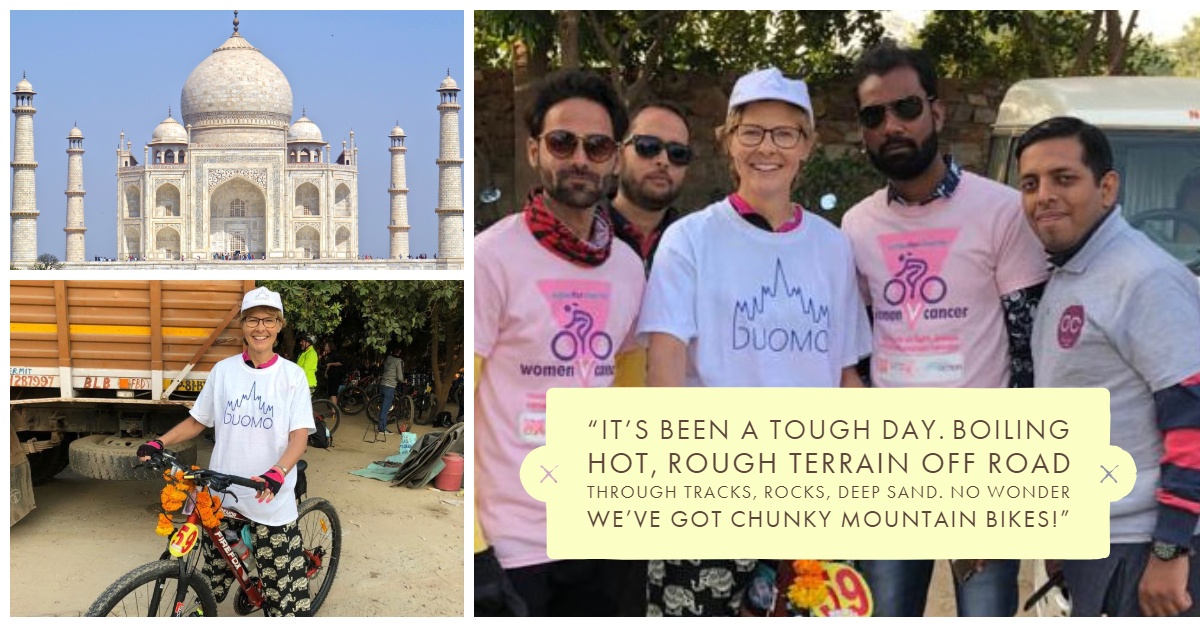 Duomo (UK) Ltd is proud to sponsor Sue on this incredible adventure. With two more days of gruelling cycling in punishing conditions Sue said:
"It's been a tough day. Boiling hot, rough terrain – off road through tracks, rocks, deep sand. No wonder we've got chunky mountain bikes!" – "This is definitely a challenge of many kinds. Not just the cycling".

"The guys are the bike mechanics and marshals. They've been so good to us. Two more days to go!"
If you are inspired by Sue's story, please visit her just giving page.